We help companies extract the most value from their supply chains through the digital management of goods.
Our IT products not only helps in our own logistics operation but also improve efficiency in our customer supply chain business.
Our IT Products are SaaS (Software-as-a-Service) based applications that can quickly customized to fit into custom business models.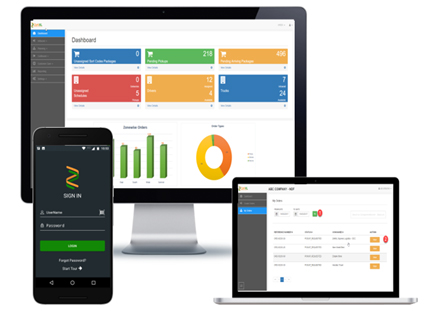 Transportation Management System (TMS)
Hub and Spoke Application
Route Planner
Mobile App for First Mile Pickup (FMP) and Last Mile delivery (LMD)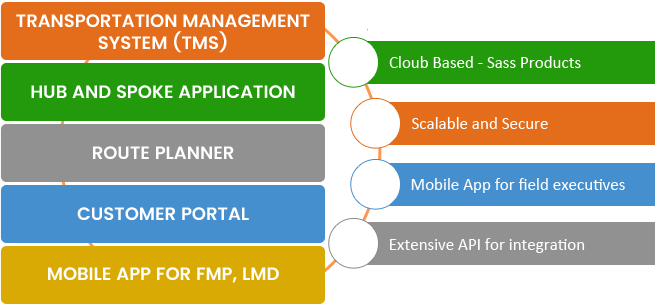 SaaS based products
Scalable and Secure
Extensive API for Integrations
Web Applications that work on Desktop, Tablet or Mobile
Mobile Application for field executives
Transport Management System (TMS):
Transportation Management Application helps customer manage their complete tech-enabled transportation operation. Customer can efferently manage their Full Truck Load (FTL), Less Than Truck Load (LTL), Secondary Distribution, First Mile Pickup (FMP), and Last Mile Delivery (LMD) using the application.
FTL and LTL load management
Middle Mile connectivity
LR Management
Vehicle Hire Challan
GPS Integrations
Geo Fencing
HUB and Spoke Application:
Hub and Spoke or Sort Center Management application helps a logistics company efficiently manage their sorting hub, network planning, and consignment sorting and forwarding.
Configurable Parameters / Network
Pickup and Delivery Planning
Ad-Hoc Pickup Injects
Trip and Load Planning
Route Planner and Optimization
Route Planner Application:
Preoperatory Route Planner application that helps trip planning and route optimization based on dynamic input and real-time conditions.
Improve Delivery Efficiency
Combine Pickup and Delivery
Save time & Fuel
Efficient Resource Utilization
Adaptable technology challenging new frontiers and giving more power
We are the best tech-enabled logistics delivery company in India offering tech-enabled transportation services in India. For tech-enabled logistics services in India, contact our team or write a mail to sales@zenxl.in.