Warehousing Storage Solution
Warehousing is a crucial and quintessential link in the supply chain which can infuse efficiency and catalyze a company's supply chain in the competitive market. Growing Consumerism has accelerated the growth of traditional markets and supply chain networks. The Adoption of eCommerce in the Indian market has also created an increased demand for warehousing & distribution in India. Never has there been a greater need for organizations to recharge their supply chains to be most efficient, responsive, and adaptable. With the changing times and complexities, technology plays a big role in how efficiently on demand warehousing operations are run when speed, accuracy, and inventory integrity are key parameters.
At ZeNXL, we enable our clients rather than partners to grow by leveraging our expertise in Logistics and letting them focus on their core competencies. Technology and operating experience help us in providing just what you need to operate robust and well-optimized 3pl warehouse solutions giving you the edge in the market. We have been operating a network of fully equipped warehouses since 2016.
Service parts logistics is our specialty and we can set up a country-wide network to cater to your aftermarket service support. You need to understand the difference between distribution centres vs. warehouse in logistics to help your business provide the best services to your customers via fulfilment.  The growth in warehousing in India is primarily being driven by the so many factors.
We are the best warehousing company in India offering 3pl warehousing services in India. For third-party warehouse service in India, contact our team or write a mail to sales@zenxl.in.
We have different sizes of warehouses for a wide range of business in six cities of India at this moment, i.e. Hyderabad, Bangalore, Pune, Gurugram, Visakhapatnam, and Chennai. We can provide warehouse space and related services all over India.
Our Warehousing Services comprise of:
Storage
Inbound Processing
Inventory Management
Value Added Services
Order Processing
Reverse Logistics (Asset Recovery)
Cycle Count
Outbound Processing
Intra City deliveries and mission critical shipments
On call 24/7 operation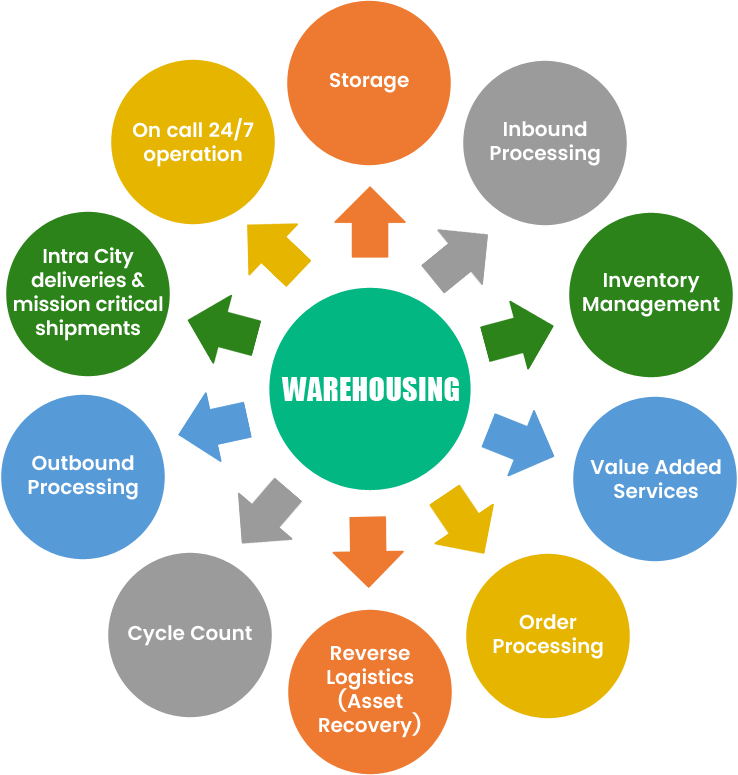 Warehouse services that go above and beyond to meet exacting customer needs.
Experienced in handling intra city distribution using our dedicated and leased vehicles and bikers. This gives speed to your products and helps you meet your service deliverables. This service is available in all metro cities and is available on call activation 24/7. This service includes :
NBD
SBD
Scheduled delivery services